Healing Trauma and Post-Traumatic Growth: Integrative Approaches for Healing
Jun 02, 2023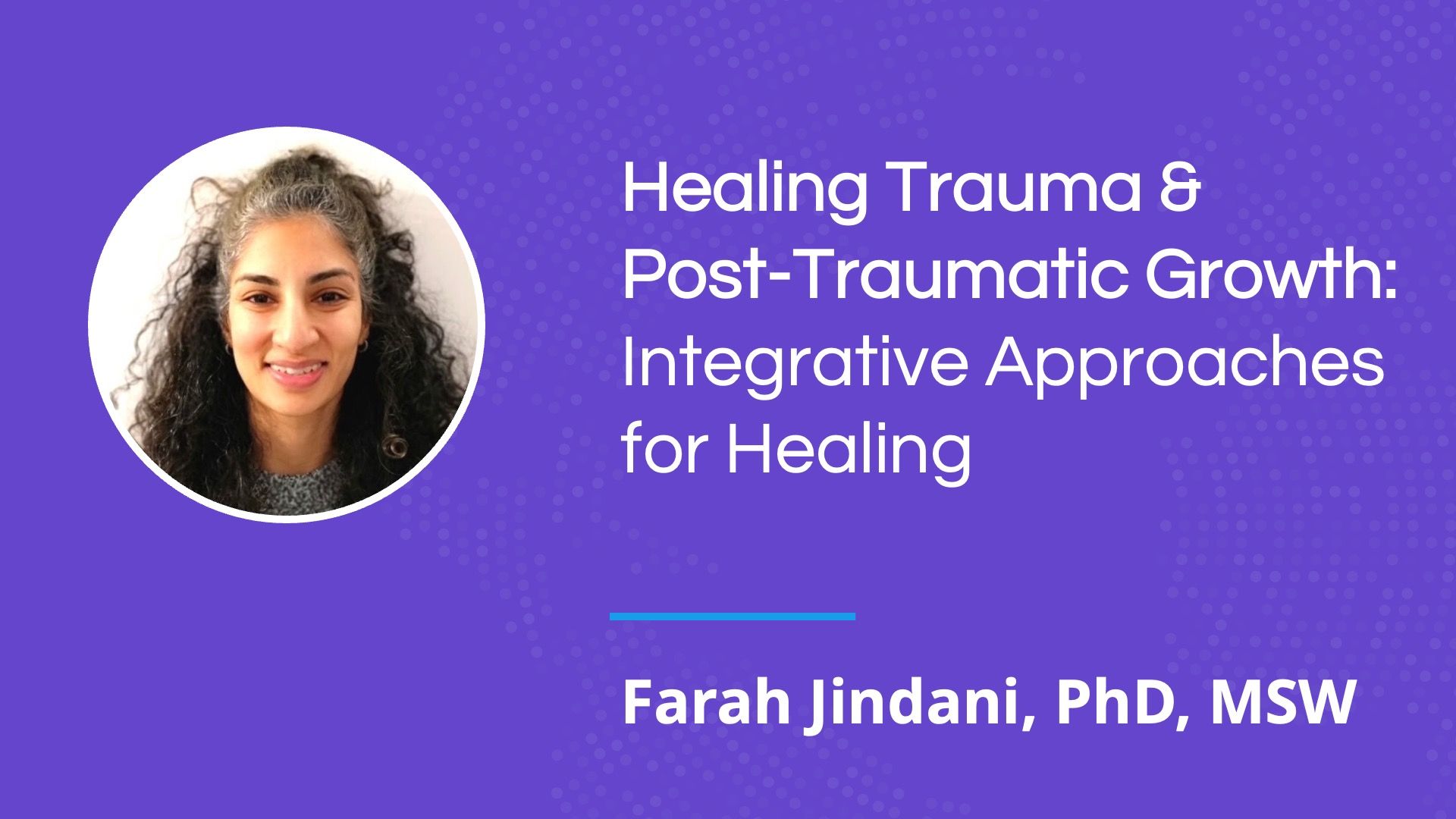 Discover the transformative power of mindfulness and other integrative approaches for healing trauma and facilitating post-traumatic growth at our upcoming event. Explore key topics such as polyvagal theory and somatic practices, and learn how to seamlessly integrate evidence-based techniques into your work and life. Gain valuable insights and practical tools for health providers' self-care to cultivate well-being and to approach trauma from a place of thriving. This event is designed for health professionals, health advocates, and anyone interested in living a more mindful life. Don't miss this opportunity to learn from renowned experts in the field, connect with like-minded individuals, and gain valuable insights and practical approaches for healing trauma and fostering post-traumatic growth.
Thursday, June 22nd 2023 - 4:00 - 5:00 PM ET / 1:00 - 2:00 PM PT / 9:00 - 10:00 PM GMT / 10:00 - 11:00 PM CET
Not a member? Click here to become a member and access this event.
---
Featured Speaker: Farah Jindani, Ph.D., M.S.W., MPhil., BA
Farah Jindani, Ph.D., M.S.W., MPhil., BA, has worked as a clinician, educator and researcher at the Centre for Addiction and Mental Health (CAMH) and various post-secondary institutions and community-based agencies for over 17 years. She has authored numerous scientific articles, book chapters, tutorials and manuals on trauma, mental health, addictions and integrative treatments to recovery.
Farah's strong interest in integrative treatments for well-being began early in life. Over time, she sought out learning opportunities with world-renowned teachers of meditation, physical practices and breathing techniques believed to support trauma. Initiating a personal daily practice of yoga and meditation introduced Farah to the healing power of mind-body practices and cultivation of self- awareness. In 2011, Farah launched a ground-breaking eight-week trial program for individuals living with post-traumatic stress. This was the first evidence-based study to explore post-traumatic stress symptoms and well-being using Kundalini yoga as an intervention. The findings were published in various scientific journals.
These personal experiences and training in mental health have all contributed to Dr. Jindani's therapeutic, teaching and research practice. She is a regular trainer in areas of trauma informed interventions, criminal justice and the intersectionality between mental health/addictions and the social determinants of health. Farah's research and teaching interests include wellness-based mental health, areas of collaborative knowledge exchange, innovative curriculum development including simulation training, trauma-informed interventions, mind-body interventions and positive psychology. In all areas of her work, she is committed to principles of inclusivity, diversity, strengths-based approaches. and collaboration.
Join our weekly newsletter for insightful articles and free events
Be the first to learn about upcoming FREE events, receive early bird pricing for courses and stay in touch with weekly newsletters!